[stikku.ac.id] – Mahasiswa Program Studi S1 Kesehatan Masyarakat Sekolah Tinggi Ilmu Kesehatan Kuningan melakukan kegiatan field study melakukan kunjungan belajar ke Balai Pengelolaan Infrastruktur Air Limbah Dan Air Minum Perkotaan (BALAI PIALAM), Dinas Pekerjaan Umum, Perumahan Dan Energi Sumber Daya Mineral Daerah Istimewa Yogyakarta, Selasa, 25 Januari 2022.
IPAL Terpusat Balai PIALAM adalah IPAL skala regional yang merupakan sistem terpusat dimana pengolahan air limbah domestiknya berasal dari buangan kawasan permukiman, rumah makan (restoran), perkantoran, perniagaan, hotel, apartemen dan asrama dari satu perkotaan lintas Kabupaten/Kota dengan kapasitas 26.000 SR. sedangkan, limbah black water diolah melalui (Instalasi Pengolahan Limbah Terpadu) IPLT yang mengolah limbah berasal dari septik tank / sedot tinja dengan kapasitas100m³/hari.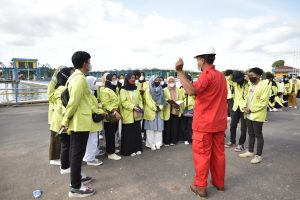 Kegiatan yang diinisiasi oleh Bagian Kemahasiswaan dan Program Studi ini diikuti oleh kurang lebih lebih 150 mahasiswa terdiri dari mahasiswa semester 1 dan semester 3 yang di dampingi oleh dosen pembimbing sebanyak 7 orang.
Kegiatan dimulai pukul 08.00 pagi dengan dibuka langsung oleh pimpinan kepala Balai PIALAM dan dilanjutkan dengan mendengarkan arahan dari Ketua Program Studi S1 Kesmas, Fitri Kurnia Rahim, SKM. MPHM terkait tujuan, manfaat dan gambaran kegiatan yang akan dilakukan. Kegiatan kunjungan ini dilakukan dengan tetap memperhatikan protokol kesehatan sehingga dalam kunjungan ini tidak dilakukan pengumpulan mahasiswa di dalam ruangan untuk mencegah kerumunan. Mahasiswa diberikan pengarahan secara outdoor dan dilanjutkan dengan dibagi menjadi kelompok-kelompok kecil yang selanjutnya akan dipandu dan oleh pendamping lapangan langsung dari petugas Balai untuk berkeliling melihat setiap proses pengolahan limbah yang ada.
Mahasiswa nampak sangat antusias dengan ilmu serta wawasan yang didapatkan. Pengalaman melihat langsung bagaimana air limbah yang kotor dapat diolah menjadi air buangan yang lebih layak untuk dibuang ke badan air sehingga tidak mencemari lingkungan (baik tanah, air dan udara) menjadi hal yang sangat inspiratif bagi mahasiswa. Kegiatan kunjungan belajar seperti ini sangat bermanfaat untuk bisa meningkatkan capaian pembelajaran mahasiswa terutama capaian pengetahuan khusus yang sebetulnya sudah didapatkan dalam perkuliahan, namun menjadi sangat baik jika mahasiswa bisa melihat dan belajar secara langsung. Pembelajaran semacam ini disebut dengan metode Contextual Teaching and Learning (CTL). Contextual Teaching and Learning (CTL) merupakan suatu model pembelajaran yang memberikan fasilitas kegiatan belajar siswa untuk mencari, mengelola, dan menemukan pengalaman belajar yang lebih bersifat konkret dan mengaitkan dengan kehidupan nyata siswa.
Semoga kegiatan yang sangat baik ini dapat dilakukan kembali dilain waktu dengan tetap memperhatikan situasi pandemi yang semoga segera berakhir, sehingga kegiatan pembejalaran dapat berjalan dengan baik demi peningkatan kompetensi mahasiswa.